Have wheelchair, will travel

Keba Makaqa, aged 12, is blind and has attended the Johannesburg School for the Blind sporadically from 2005 to 2007, as a weekly boarder. He lives in the Sebokeng area and transport is a major problem for his family. He cannot attend a government boarding school on a termly basis because of a cruel physical attack on him in the past; the perpetrator is still at large and both the school concerned, and the police, seemed indifferent to his plight. E-mail: firechildren@icon.co.za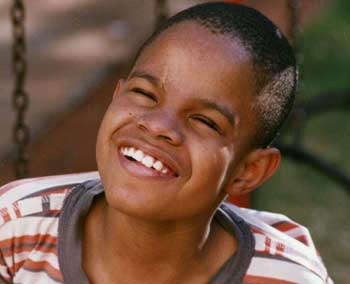 JOHANNESBURG'S School for Blind, Low Vision and Multiple Disability Children (Beka) has taken on a daunting social responsibility project to help its pupils to get to school and at the same time to help all the residents of the city. Otto Geukers, Nancy Kluth and Thomas Ranamane have been working on the charity's Disability Transport initiative. Help from other hands-on researchers would be welcomed.
Beka was started as a subsidiary charity to Children of Fire in January 2003 because the Gauteng Department of Education would not provide appropriate education for burns survivor Dorah Mokoena, then aged 8.
Now, more than two years later, the school is providing education to blind children as well as those with low vision, severe cerebral palsy and disfiguring and disabling burns. The unofficial admission policy is something along the lines of: we'll accept anyone that the government can't or won't teach.
The school has even taken in children whose shacks burned down with all their possessions inside, as the children's state school then turned them away for not having uniform! And in September 2004 the school took in a girl whose home was illegally demolished by Johannesburg's Metro Police acting without a court order. She was terribly traumatised but by giving her shelter, food, counselling and most importantly, education, the road to healing could start straight away.
We do not believe that children should miss one day's education in the year. On the same level, we do not want to have children boarding with us long term, as they need the daily support from their families. But the lack of transport across the city makes it impossible for us to reach so many children in need.
Since Beka runs entirely on public donations of money, skills or materials, it cannot provide transport for its students. The pupils rely on private vehicles or public transport. But ask the City Council for a map of all Johannesburg's bus routes and beyond academic treatise, it does not exist. Metro Bus cannot even say how many people travel on a particular route.
Ask for simple links between buses, trains and taxis and the information is not there. Some of it is available in highly theoretical form. Try to determine where to live so that your children can reach school easily and safely, and there is no one to help.
So Beka decided to analyse Johannesburg's transport network and to make that information easily available. From seeing what exists, it would be easier to suggest how to improve the system in future.
ESRI donated Arcview mapping software to Children of Fire, upon which the 2600 taxi routes can be plotted. To this can be added the 90 Metro and 50 Putco bus routes, some smaller bus companies and the three main lines for trains. But beyond public transport and the seemingly law-unto-themselves taxi routes, Beka wants to include all the school-specific modes of transport. There are schools like the 1000-pupil-strong German International School of Johannesburg with buses that travel deep into Midrand and far into Soweto, providing a transport network of more than 40 kilometres to north and south.
If all these systems can be integrated and reliable statistics on passenger numbers recorded, then it will be possible to explain to the mother of a blind boy in one suburb how he can attend a primary school in another suburb and even how much the journey will cost and how long it would take.
All the social responsibility of the City of Johannesburg aside, there are pressing economic reasons for improving population mobility. Whether it is simply to get more people to work or study on time or whether it is to cater for the crowds in the 2010 soccer World Cup, it makes sense to invest in a better system.
Currently "scheduled" buses can easily run on a route 40 minutes late - which makes connecting to another scheduled service impossible. Buses only really function in the morning and afternoon rush hour. There are 15 buses out of a total fleet of some 700 buses that are equipped for severely disabled people they are not used on one route - so they might as well have never been bought. In the future however there are plans for transport corridors of excellence. These recognise that there is not enough money (or budgeting ability) to upgrade the whole system to a reasonable level and so it is better to use information from the Census combined with the location of hospitals, special schools and the like, to make certain routes more accessible to people - and then to improve the rest of the city step by step.
We are fortunate with the location of our school in Auckland Park, that this is an area already well served with buses and included in the future corridor plan. The school's relative proximity to the Helen Joseph Hospital, the University of Johannesburg, the University of the Witwatersrand and SA Blind, can only help.
Better routes and increased frequency of buses and taxis are only part of the picture. Public transport in Johannesburg has not been designed for disabled people. Steps are often too high, ramps are rare, simple measures like contrasting colour markings on steps and doorways for low vision travellers are hardly used.
Pavements are so uneven that wheelchair users and pedestrians often prefer to use the road - even amid the cars - and the use of raised bump paving stones to mark the position of traffic lights for blind people is not common. We have asked for a noise-emitting pelican crossing opposite our school and for a wide green painted line on the pavement from the large road where taxis stop, so that a low vision person could walk the final quarter kilometre down a side road with ease. Direct travel is almost impossible. Nearly every bus in Jo'burg seems to go to Ghandi Square but all this does is add to city centre congestion and inaccessibility.
Taxis are sometimes unwilling to take disabled passengers and other passengers can be unfriendly to the extent of being hostile.

Many people involved in transport planning seem not to understand disability. Beka's volunteers travelled with a physically disabled child in a wheelchair and her mildly mentally disabled brother from Zevenfontein squatter camp to our school - which they would like to attend. The cost of travel a month would be more than the two disability grants that the children receive. Their mother would have to travel with them, so she would not be able to work or to look for work. Travel times each day would be four hours or more. There are no disabled toilets en route. It takes two adults to lift the girl in the wheelchair in and out of the taxi. There is no shelter en route if it rains heavily. If the mother does not perch the heavy foldable wheelchair on her lap, she is charged an extra fare. The hardest part of the journey is pushing the wheelchair over the potholed soil of the squatter camp where there is no formal road or path. The children could not travel without an adult escort. Even if they do travel with her, they are more at risk from crime than other passengers. If vehicles break down, the journey would be a nightmare. So these two teachable children do not go to school at all.
Children of Fire and Beka will first produce a map to show people how to reach our school. Then the city-wide map will begin with the intention to make data available to the general public, digitally and in print.
This is amid all our usual tasks of disaster management and prevention, organising complex surgery and the rehabilitation of burned children over years, and running a school where nearly every pupil needs one-to-one attention. We have secured brilliant graduate volunteers through international student organisation AIESEC but we need more - and we need a budget specifically for the transport project.
We are now invited to government think tanks on the accessibility issue and look forward to the City of Johannesburg's Integrated Transport Plan moving off paper and onto wheels.
Children of Fire Trust; Children of Fire International; Johannesburg School for Blind, Low Vision and Multiple Disability Children, www.firechildren.org PO Box 1048, Auckland Park 2006, Gauteng Province, Republic of South Africa. Tel +27 11 726 6529; Tel/fax/ans +27 11 482 4258; cell 082 864 3560; School Manager cell: 084 822 0635; Class action co-ordinator 076 11 80 959; Disability Transport Project Manager cell: 072 743 1548; Cape Town representative: 073 212 3592; Training Manager cell: 084 822 0624