Vacancies at Children of Fire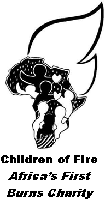 Job Offered: Occupational Therapist
Full time position available for hardworking, ethical, enthusiastic rehabilitation Occupational Therapist interested in hands-on work with children and young adults at Africa's First Burns Charity Children of Fire based in Auckland Park, Johannesburg and in Pinner, London. It is a non-smoking organisation, free from prejudice, where innovative solutions are encouraged.
Children of Fire arranges surgery and rehabilitation of the poorest terribly-injured child burn survivors across Africa, integrating education and social intervention.
The therapist will work in a busy, interactive environment where teamwork is essential. The extensive and diverse input of colleagues is valued as many have practical OT knowledge. Therapist should be willing to make a long-term commitment as dipping in and out of children's lives is harmful to them.
A passport and yellow fever vaccination are required for potentially-extensive travel within South Africa and further afield, often at short notice. Remuneration: Dependent on experience
Skills Required: Experience in paediatric rehabilitation. The therapist should be well-versed in assessment and treatment of both physical and cognitive function, splint and pressure garment-making, serial splinting and serial casting.

• Good English report-writing and communication.
• Able to assess children for splinting, pressure garments and exercise to optimise mobility and functionality, and ensuring patient/guardian compliance.
• The complexity of the disability or the age of an injury should not prevent an attempt to improve function or mobility as our 19-year-long track record demonstrates Escher's view "Only those who attempt the absurd will achieve the impossible."
• The candidate will be required to participate in case management meetings daily.
• Will conduct brief as well as comprehensive assessments to optimise functioning within the context of learning and development; solutions are considered in a life-long context, imagining what the future adult will need to do.
• Will interpret medical and academic reports to provide information and/or ensure that treatment is appropriate.
• Will plan, initiate and periodically re-assess the effectiveness of therapy plans.
• The therapist will be expected to train other therapists in the longer term and to prepare research papers on treatment techniques. Assistance with designing a hospital occupational therapy department is a long term goal.

Training in prosthesis-making might be provided.
Education/ Registration: A recognised degree in Occupational Therapy, HPCSA registered, specialism in hands or maybe an interest in specialising in hands, member of OTASA (or its equivalent in other country). Clean driver's licence and own transport essential. No criminal record. If you are passionate about improving lives, please submit an updated CV, motivation letter, indication of salary sought and your availability to firechildren@icon.co.za
Closing date: 15th March 2015. Only shortlisted candidates will be contacted.


Vacancy: Volunteers wanted for a life-changing sabbatical

The Johannesburg School for the Blind, Low Vision and Multiple Disability Children (Beka) is based in Auckland Park, Johannesburg, and it relies on donations and the work of volunteers to be able to keep open. The school is looking for qualified primary school volunteer teachers from Blind Schools across the world who would be interested in working in South Africa and willing to share their expertise with the children at the school. We are looking for people who are passionate about what they do, enthusiastic and innovative in their lessons, and who are nurturing and caring towards children with special needs.

In 2006 Geerlande Homburg, a senior teacher from Bartimčus School for the Blind, in Zeist, The Netherlands, spent three months at our school and made a huge difference in the lives of the children. She continues to visit and helped with mobility training in 2009.

In 2009 Barbara Lechner from the School for the Blind in Vienna, Austria, volunteered at the school, and other volunteers from France, the Netherlands and the United Kingdom have also shared their time and skills with the children at Beka. Over the years the school has had teachers and volunteers from Tunisia, the Democratic Republic of Congo, Cameroon, Australia, Germany, Mozambique and Zimbabwe.

Children attending the school range in age from three years to seventeen years old, all of whom are from disadvantaged backgrounds. The focus is on pre-primary and primary schooling, but some assistance is given to older pupils who are educationally behind. The children enjoy their music lessons, reading and typing Braille, cooking classes, growing their own vegetables, playing on the swings and going on outings. Many children come and go while they have surgery through the linked charity, Children of Fire - see www.firechildren.org

The ideal volunteer can take a sabbatical from their school and work with us in Africa for a three-month to one-year period, self-funded. There is rudimentary accommodation on site, but candidates usually find their own accommodation, once they have settled in.

If you think you would be interested, please send your CV and a short motivational letter stating why you think that you would be a suitable candidate to work at Beka. Primary school teachers without Braille skills may also apply, but those with experience at schools for the blind will be given preference.

Contact Details:
Life-Changing Volunteer Work in Africa
Johannesburg School for Blind, Low Vision and Multiple Disability Children
PO Box 1048, Auckland Park 2006
Tel: +27 11 726 6529 Email: firechildren@icon.co.za
Written March 1st 2010